On The Roads to Samarkand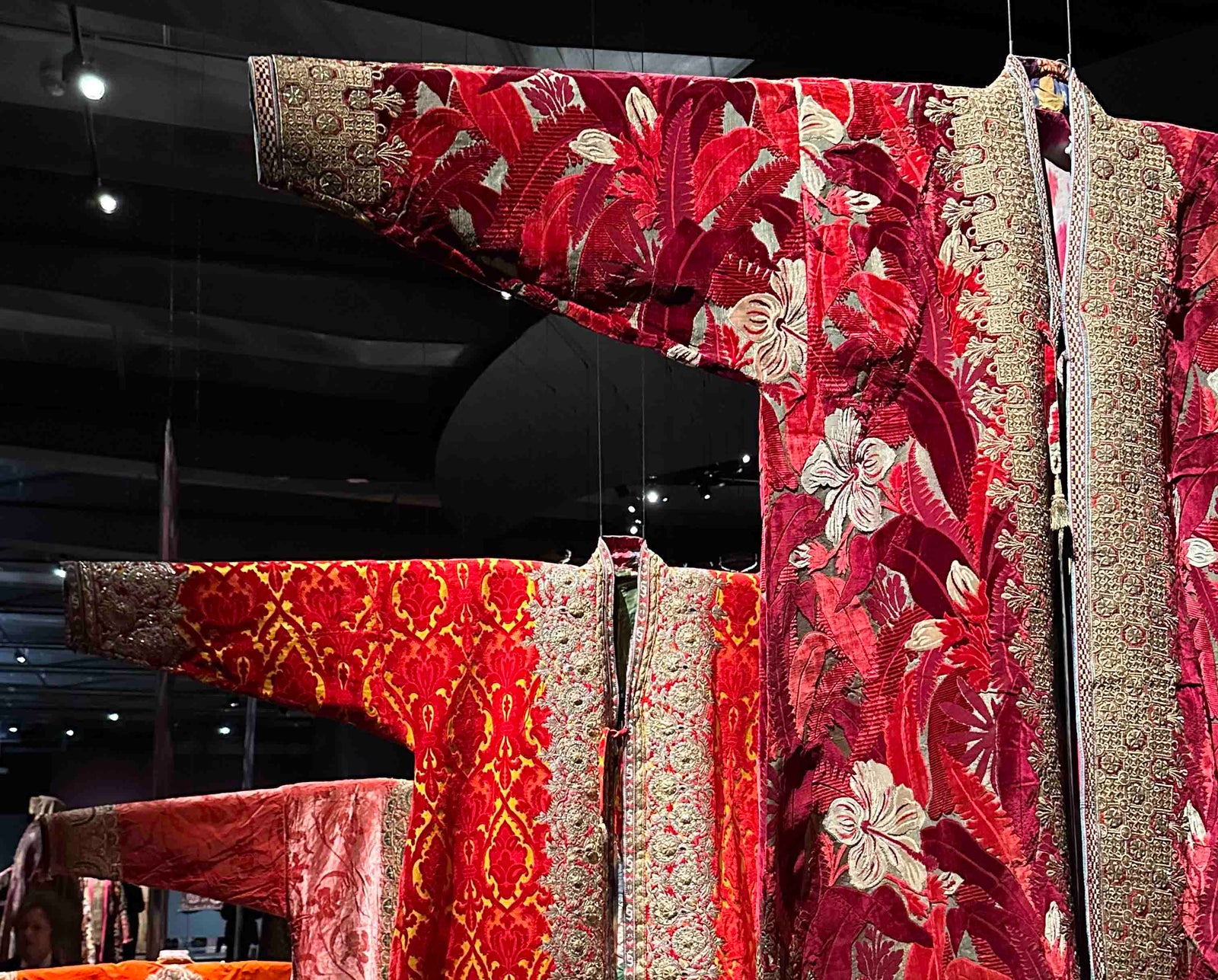 Having just celebrated Orthodox Easter in Paris where I grew up, I took the opportunity to go see this fabulous exhibition in the Institut Du Monde Arabe which focuses on the Textiles of The Silk Road - Sur Les Routes de Samarcande . I was not disappointed!! It is truly a magical journey through the crossroads of civilizations along The Silk Road, showcasing over 300 items from the museums of Uzbekistan and celebrating the artisanal craftsmanship of textiles, gold embroidered accessories, suzanis, jewelry, as well as Orientalist paintings.
The arts of weaving, embroidery, and gold work have been practiced for centuries in Uzbekistan becoming an integral part of Uzbek identity and diversity. The Silk Road brought prosperity to the region, bringing an endless wave of riches and merchants who shared their knowledge and legends. The oases in Uzbekistan were places where cotton and silk were produced, and so the art of weaving and gold embroidery became a speciality to the region resulting in a plethora of vibrant, intricate and absolutely beautiful textiles such as can be seen here.
The textiles and silk costumes on display are a testament to the creativity and skill of the artisans who made them and to the rich cultural heritage of the region. As we discover and admire these works, we become immersed in the history and culture of Uzbekistan, its contrasts, and its enduring aspects, spanning the cultures of the steppes and the age-old cities.
The way the exhibits are displayed, in dark rooms lit by precise lighting making the textiles pop - really draws you in to study the detail of the craftsmanship that went into every piece.  It is a glorious feast of colour, craft and cultural fusion. My kind of exhibition, and yes - you'll be seeing some more Silk Road designs coming to the Milola wallpaper collection ....
Usually, the dress code for women was quite strict with women under 30 wearing red and above 30 they would wear green or blue, whilst older women would wear much paler colours such as beige. Could you imagine....??! Yikes.
Skullcaps, or doppi, were part of the traditional Uzbek costume and were worn by men women and children. Form, colour and decoration were indicators of age, social status and the region of the person wearing it.
Turkestan had been a popular destination for Russian avant-garde artists and when the Russian Empire fell and became the USSR, Soviet artists continued to flock to the area resulting in a large collection of avant-garde Russian work, some of which can be seen here.  So, if you have the chance to see this exhibition,  especially if you love everything colour and textiles. It's a must. The exhibition runs until June 4th.
---