Getting Away to Sweden for some Josef Frank Floral Design Inspiration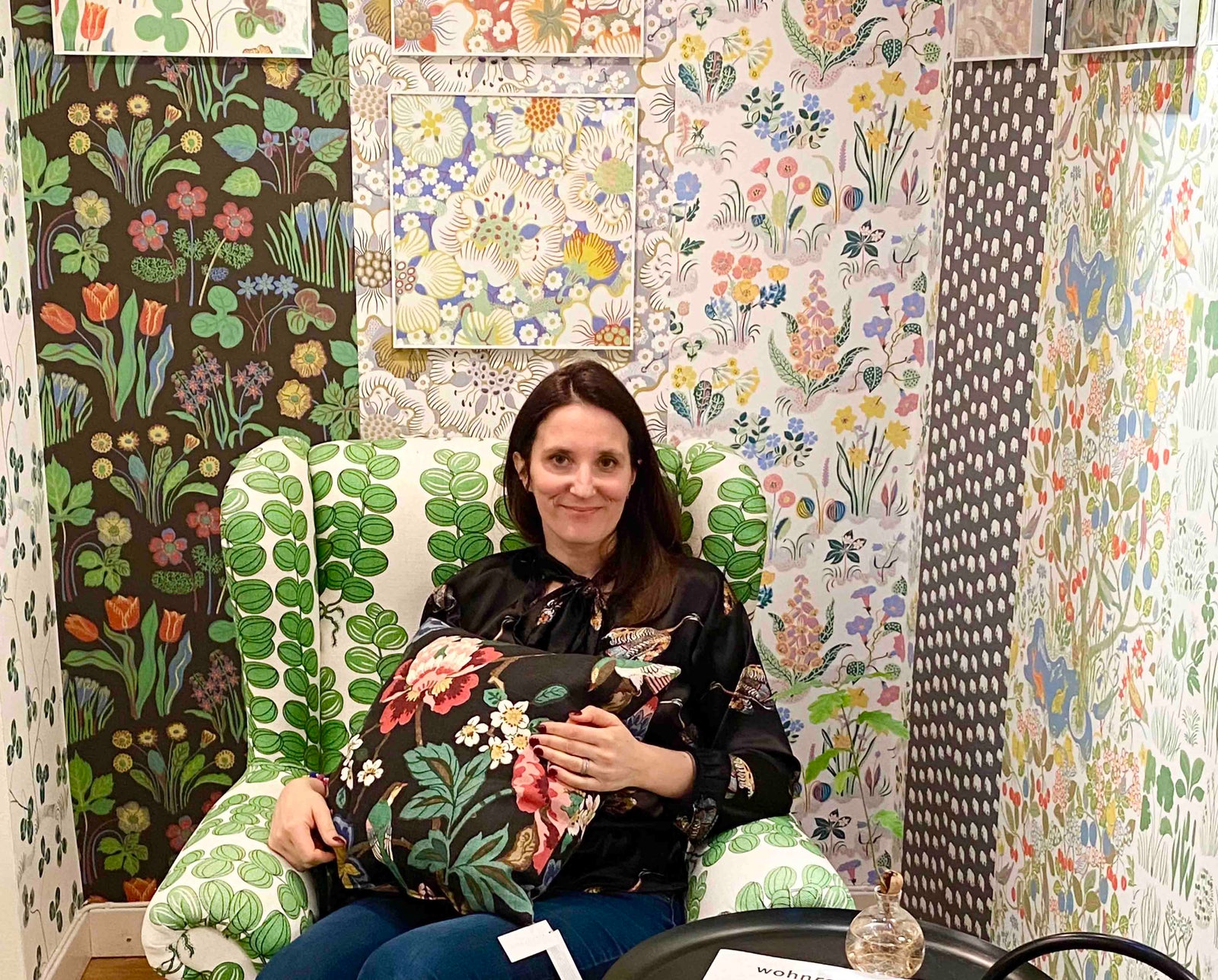 Amidst all the worry about what is happening in the world  - I had a long booked trip to fly to Stockholm to see my closest school friends from over 30 years ago. In high school I attended the International School of Brussels which at the time was full of Scandinavians kids - and thus I made the most wonderful Scandi friends - and although our lives have taken completely different trajectories (California, Norway, Sweden, Germany), we try to meet up once a year which recently had been scuppered by Covid.
I'm not going to delve into the wonderfulness of seeing childhood friends who both inspire you and make you laugh. What I'll give you an insight into, is the magic that is Svenskt Tenn  www.svenskttenn.com on Strandvågan 5 in Stockholm and its main textile pattern source - the wonderful designs by Josef Frank (1885-1967). 
Master Drawing and Textile: Dixieland
Svenskt Tenn is a labyrinth of a boutique brimming with playful colour and lush interior chic that is abundant with the trademark textiles of Josef Frank.   Frank was an Austrian born successful architect and designer who started delving into the world of designing patterns that amongst others, caught the eye of Estrid Ericson in Stockholm, who had opened the design and furnishings firm Svenskt Tenn.  
Astrid Ericson and Josef Frank
With mounting anti semitism in Vienna in the 1930's, Frank emigrated to Stockholm where he solidified what was to become a life long working collaboration with Ericson and Svenskt Tenn. Frank would produce a plethora of designs for printed fabrics and furniture that were a result of his deep rooted interests and life changing experiences but also in reaction to Ericson's forward thinking and timeless vision. Frank produced approximately 170 fabric patterns, 40 of which have become iconic classics in the world of interiors and to this day, his designs also remain the center attraction of the chic Svenskt Tenn shop allure. 
 Textile: Under Ekvatorn
It's incredible how someone who lived through two World Wars, two exiles because of persecution  (he relocated to the US for 10 years at the start of WWII), was able to produce such vibrant, buoyant, and uplifting collections that were to become the epitome of interior chic certainly in Sweden - but for those who know, also in the rest of Europe and United States. Now, after almost three generations, his designs still carry a timeless contemporary organic freshness coveted by young and old alike. You walk into Svenskt Tenn which flanks the river Söderström and you are literally swept away by the vibrancy of bold colour, the use of fauna and seemingly contemporary eclectic quirk that fuses perfectly to create an inspiring and inviting interior. I HIGHLY recommend a visit.
Textile and Master Drawing: Vegetable Tree
Textile: California 
---